Evergreen shrubs are some of the most versatile ornamental plants around. They look great next to a beautiful array of perennials, as privacy hedges, and even all by themselves on an empty lawn. These shrubs are also much less work than other plants! 
Here are five of the best choices with their ideal uses!
For Low Ground Cover: Juniper Shrubs
Hardy, drought-tolerant, and very versatile, low-lying juniper shrubs have blue and green tones that make for excellent accents in any garden. There are many species of juniper, but no matter what you choose, they are some of the best evergreen shrubs to add to your landscaping to fill in those empty spots. Two of your best options, the Japanese Garden Juniper and the Andorra Juniper, don't grow higher than a foot or two off the ground. 
For Low Hedges: Boxwood
Boxwood shrubs are compact and versatile evergreens that can be clipped to make small, formal hedges around gardens or property lines. If you love their look but don't have room for borders, the boxwood can also function as a topiary or on the patio in containers. Homeowners should plant it in well-drained soil in partial or full shade, and their tolerance of deep shade makes them ideal for those awkward sunless spots or beneath tall trees. You can keep boxwood fully in the sun, but make sure to keep the soil moist.  
For High Hedges: Green Giant Arborvitae
This resilient upright evergreen grows a very predictable shape and height, making it perfect for privacy or wind screening when you don't want to mess around. It grows best in the sun, but just try finding a spot where the Green Giant Arborvitae won't find some rays: it can grow to be 30 feet tall and spread 10 feet out. It also grows at a fast rate, and you can expect it to live for over 50 years.
If you choose this jolly green giant, do be careful of where you plant it; because of its height and breadth, avoid placing it under powerlines. Because of our cold climate, apply a thick layer of mulch around the root zone in winter to protect the shrub if it's in exposed areas.
For Getting Fancy: King's Gold Cypress
Don't let the name fool you: the King's Gold Cypress is a false cypress. These upright evergreen conifers are great for adding some colour to the landscape, as the sprays of rich yellow foliage give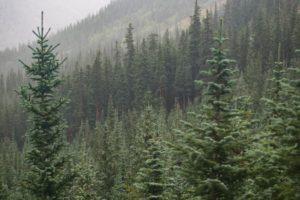 this plant a unique character. King's Gold shrubs can get up to five feet and spread out seven feet, and the best of their gold comes out in the full sun. 
For A Low-Maintenance Tree: Dwarf Alberta Spruce
The Dwarf Alberta Spruce is a dense evergreen that, because it gets no higher than six feet at maturity, looks like a mini Christmas tree. It's both the perfect accent for breaking up large, empty landscapes and for sitting in the garden next to your flowers. It's low maintenance too, but while it stays green all winter long, the needles are sensitive to cold winds; it's recommended that they get a burlap wrap as the temperature starts to dip.